Treatment for Steroid-Induced Diabetes includes diabetes education; dietary management, glucose monitoring and medication as prescribed. A referral to a diabetes education program and an endocrinologist for consult is recommended. In people who did not have diabetes or high blood sugars before starting steroid treatment, blood sugar levels usually return to normal once they are stopped. Click here for a link to the self-referral form for diabetes education.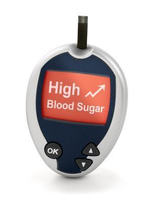 Pre-Existing Diabetes and Cancer
People with pre-existing diabetes that are now being treated for cancer, may have difficulty controlling their blood sugar levels. Diabetes treatments often need to be adjusted to help get blood sugar levels under control. For those with type 2 diabetes, insulin is often used, and is usually started around the time that steroids are given. Other aspects of treatment include diabetes education and a referral to an endocrinologist for consult, as medication and insulin may need to be frequently adjusted during treatment.
Although diabetes is sometimes not the primary concern for those dealing with cancer, keeping blood sugar levels within a reasonable range can make you feel better, by preventing the symptoms of high blood sugar levels, and can also reduce risks of infection, and prevent delays in cancer treatment.