Foot Care
For people with diabetes, prevention and management of their feet is very important.  According to the 2013 CDA Clinical Practice Guidelines, "Detectable sensorimotor polyneuropathy will develop within 10 years of the onset of diabetes in 40% to 50% of people with type 1 or type 2 diabetes".  Peripheral neuropathy along with peripheral arterial disease predispose people to foot ulceration and infection which can lead to ulceration and sometimes amputation. 
Risk Factors for Neuropathy
Elevated blood glucose levels
Elevated triglycerides
High body mass index
Smoking
Hypertension
Assessment
As a health care provider, a foot assessment should be done at least annually and more frequently for those at high risk. 
Remember to "look, feel and ask..."
1.  Skin:  Is the skin dry or calloused?
2.  Nails:  Are nails well kept or un-kept?
3.  Deformity:  Have there been changes to the bony structure of the foot?
4.  Foot wear:  Does the patients' footwear fit properly?
5.  Temperature:  Is the foot hot or cool?
6.  Range of Motion:  Check the hallux range.
7.  Sensation:  Use a monofilament to test 10 sites on the foot. For instructions, click here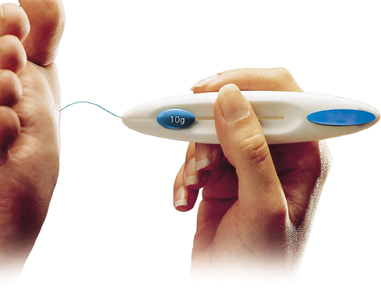 8.  Sensation:  Ask the following 4 questions:
Are your feet ever numb?
Do they tingle?
Do they ever burn?
Do they feel like insects are crawling on them?
9.  Pedal Pulses:  Are pulses present, absent or bounding?
10.  Dependent rubor:  This may be indicative of poor arterial flow or perfusion.
11.  Erythema:  This may be indicative of inflammation, infection or Charcot changes. 
For a clinician's brochure on foot assessment, click here
For an online version of foot assessment, click here
Prevention
If your patient has diabetes, it is very important to encourage daily foot care inspection.  For further guidance for your patient on foot care and local resources, click here.  
Management of Foot Ulcers
General principles of wound management involve:
1.  Referral to a multidisciplinary health care team with expertise in the management of foot ulcers
2.  The provision of a moist wound environment
3.  Debridment of nonviable tissue (nonischemic wounds)
4.  Offloading of pressure areas. For more information on the impact of offloading devices on diabetic foot ulcers, click here.
For More Information
If you would like to refer your patient for foot care, please complete a referral form and submit to Diabetes Central Intake, or if you prefer, click here for more information on local foot care providers.  Please note that service fees apply to most services listed.
For more information on services in Centre or North Wellington, please see below or click here.