Foot Care
For people with diabetes, prevention and management of their feet is very important.  According to the 2013 CDA Clinical Practice Guidelines, "Detectable sensorimotor polyneuropathy will develop within 10 years of the onset of diabetes in 40% to 50% of people with type 1 or type 2 diabetes".  Peripheral neuropathy along with peripheral arterial disease predispose people to foot ulceration and infection which can lead to ulceration and sometimes amputation. 
Risk Factors for Neuropathy
Elevated blood glucose levels
Elevated triglycerides
High body mass index
Smoking
Hypertension
Assessment
As a health care provider, a foot assessment should be done at least annually and more frequently for those at high risk. 
Remember to "look, feel and ask..."
1.  Skin:  Is the skin dry or calloused?
2.  Nails:  Are nails well kept or un-kept?
3.  Deformity:  Have there been changes to the bony structure of the foot?
4.  Foot wear:  Does the patients' footwear fit properly?
5.  Temperature:  Is the foot hot or cool?
6.  Range of Motion:  Check the hallux range.
7.  Sensation:  Use a monofilament to test 10 sites on the foot. For instructions, click here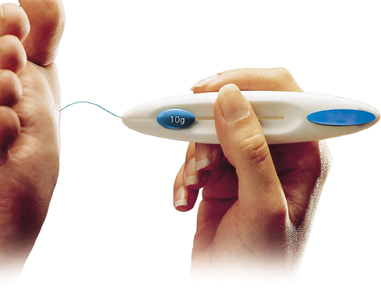 8.  Sensation:  Ask the following 4 questions:
Are your feet ever numb?
Do they tingle?
Do they ever burn?
Do they feel like insects are crawling on them?
9.  Pedal Pulses:  Are pulses present, absent or bounding?
10.  Dependent rubor:  This may be indicative of poor arterial flow or perfusion.
11.  Erythema:  This may be indicative of inflammation, infection or Charcot changes. 
For a clinician's brochure on foot assessment, click here
For an online version of foot assessment, click here
Prevention
If your patient has diabetes, it is very important to encourage daily foot care inspection.
Top Ten Daily Foot Care Tips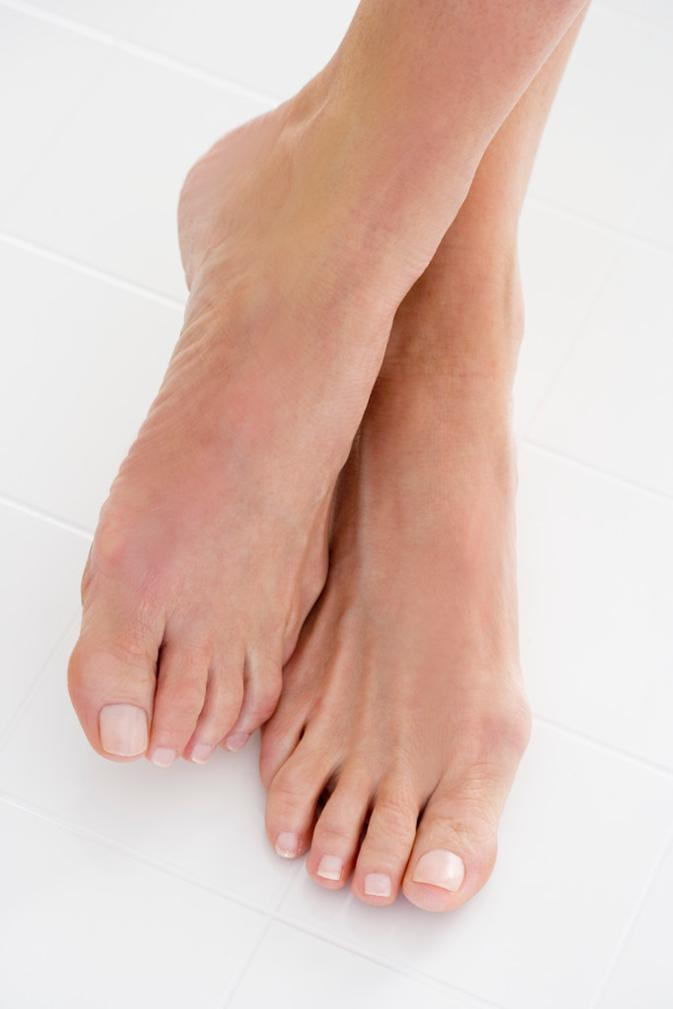 1.  Inspect your feet daily. Look for any cuts, cracks in your skin, ingrown toenails, blisters, discoloured or infected areas, callouses, corns or warts.
2.  Wash your feet in warm (not hot) water using a mild soap. Don't soak your feet as this can dry your skin.
3.  Dry your feet well after washing, especially between your toes.
4.  Apply lotion to your feet to prevent dry skin. Do not put lotion between your toes, as this is an ideal location for fungus or infections.
5.  Clean any minor cuts or scratches with mild soap and water and cover with a dry dressing to legs.
6.  Wear clean socks made of breathable materials (ie. cotton) that are not too tight around your legs.
7.  Trim your toenails straight across and file any sharp edges. This will help prevent ingrown toenails.
8.  Buy shoes at the end of the day when your feet are the biggest. Feet often swell during the day.
9.  Do not go barefoot.  Wear shoes at all times to prevent injury to your feet.
10.  Wear socks at night if your feet feel cold. Do not use hot water bottles or heating pads as they may burn you.

Are you interested in providing a prevention workshop?
The Diabetes, Healthy Feet & You Program is available throughout the Waterloo Wellington region.  This program is in collaboration with the Canadian Association of Wound Care (CAWC) and the Waterloo Wellington Self-Management Program.  This 2 1/2 hour workshop is targeted to people with diabetes who are willing to learn more about foot care.  For more information about this program, click here.
Management of Foot Ulcers
General principles of wound management involve:
1.  Referral to a multidisciplinary health care team with expertise in the management of foot ulcers
2.  The provision of a moist wound environment
3.  Debridment of nonviable tissue (nonischemic wounds)
4.  Offloading of pressure areas. For more information on the impact of offloading devices on diabetic foot ulcers, click here.
For More Information
If you would like to refer your patient for foot care, please complete a referral form and submit to Diabetes Central Intake, or if you prefer, the following chart identifies local foot care providers.  Please note that service fees apply to most services listed.
For more information on services in Centre or North Wellington, please see below or click here.
Ayr

Foot Care Nurse
BioPed - Outreach Site
2958 Greenfield Rd
519.632.1229
Jenuine Care
33 Northumberland St
519.632.8122

Cambridge

Chiropodist / Podiatrist
Achilles
366 Hespeler Rd
519.624.4122
Anthony Zamojc
56 Grand Ave N
519.623.4410
BioPed
600 Hespeler Rd
519.622.5959
Cambridge Foot Clinic
14 George St
519.623.5444
Roshni Patel
3-697 Coronation Blvd
519.623-3000
York Foot Health & Orthotics Clinic
5-209 Pinebush Rd
519.623.0222
Foot Care Nurse
Feet First Foot Care
424 Eagle St
519.650.6079
Mobile Feet
56 Carter Cres
519.716.4481
We Care Home Health Services
Cambridge and Ayr
519.576.7474
Guelph
Chiropodist / Podiatrist
Anthony Zamojc
218 Speedvale Rd E
519.836.1142
Custom Foot Clinic
203-806 Gordon St
519.823.1450
Feet for Life
245 Edinburgh Rd S
519.821.0297
Guelph Complete Foot & Ankle Clinic
3 Paisley St
519.850.8686
Shael Weinberg
202-55 Cork St E
519.836.2740
Wellington Foot Clinic
245 Edinburgh Rd S
519.546.3737
Foot Care Nurse
Amelia Martin
Home visits available
226.820.5666
BioPed
102 Wyndham St N
519.821.7310
Foot Patrol
Guelph
519.341.0268
G&S Wellness Clinic
Guelph
519.571.4273
We Care Home Health Services
Guelph
519.576.7474

Centre Wellington

Foot Care Nurse
Amelia Martin
Home visits available
226.820.5666
Foot Patrol
Aberfoyle, Elora, Fergus
519.341.0268
We Care Home Health Services
Fergus, Elora
519.576.7474
Kitchener
Chiropodist / Podiatrist
Family Foot & Orthotics Clinic
120 Ottawa St N, Unit 117
519.954.4415
Grand River Hospital
835 King St
519.742.3611
Podiatric Consultants
1354 King St E
519.576.8960
The Centre for Family Medicine
25 Joseph St
519.578.2100
Foot Care Nurse
BioPed
842 Victoria St N, Unit 12
519.576.9440
Complete Foot Clinic Inc
751 Victoria St
519.579.9223
Feet on the Go
Home visits available
519.654.6363
Happy Feet Complete Foot Care
6 Cray Cres
519.498.7978
Karen Mielke RN Foot Care Nurse
63 Wren Place
519.893.5459
Linda, The Foot Nurse
121 Old Chicopee Dr
519.893.2969
Shoppers Drug Mart
Sunrise Centre, 1400 Ottawa St
519.742.6160
We Care Home Health Services
Kitchener
519.576.7474
New Hamburg
Chiropodist / Podiatrist
Physiotherapy Alliance
10 Waterloo St, Unit 4
519.662.4676
Heel~n~Hands, Amy Guilhauman, RN
New Hamburg, Wellesley, Baden
519.634.5195
Waterloo
Chiropodist / Podiatrist
Foot Works
200 King St
519.888.6274
KW Foot & Orthotics Clinic
279 Weber St N, Unit 17
519.884.4200
Sarah Ferguson Chiropody
99 Northfield Dr, Suite 202
519.725.9941
Dr. Stephen Hoke
130 Weber St N
519.885.1511
Waterloo Foot Clinic
50 Westmount Rd N, Unit 207
519.884.3668
Foot Care Nurse
BioPed
583 King St N
519.747.3222
Feet on the Go
Home visits available
519.654.6363
Susan Jarosz RN Footcare Services
Waterloo
519.884.8954
We Care Home Health Services
Waterloo
519.576.7474
Waterloo Region
Chiropodist / Podiatrist
Elmira Medical Centre - Jane Warner
2 Park Ave W, Elmira
519.669.5493
Foot Care Nurse
G&S Wellness Clinic
Waterloo Region
519.571.4273
Just Feet with Kathleen
Elmira
519.669.5835
Sherrie the Footcare Nurse
Waterloo Region
519.893.2272
We Care Home Health Services
New Hamburg, Baden
519.576.7474
Rural East Wellington
Chiropodist / Podiatrist
Acton's Head 2 Toe Healthcare
65 Mill St E, Acton
519.853.8557
Erin Physio Fitness
6 Thompson Cres, Erin
519.833.0606
Foot Care Nurse
Amelia Martin
Home visits available
226.820.5666
We Care Home Health Services
Rockwood, Erin
519.576.7474

Rural North Wellington

Chiropodist / Podiatrist
Betty McTague
160 King St W, Mount Forest
519.323.3668
Foot Care Nurse
Sherry Lynn, Gentle Approach Nursing Footcare
Palmerston
519.417.2217
Amelia Martin
Home visits available
226.820.5666
Caring Sole (Kelley Eves)
Mount Forest
519.820.7187