Physical Activity--Why is it important?
Regular physical activity is a key part of managing diabetes, regardless of whether you have Type 1 or Type 2 diabetes.  When you exercise, your insulin works better because your cells are more receptive to insulin.  Because of this, exercising consistently can lower your blood glucose and improve your A1C.  Exercise can also help with many other health conditions as it:
lowers blood pressure and cholesterol
lowers your risk for heart disease and stroke
burns calories to help you lose or maintain weight
increases your energy for daily activities
strengthens your muscles
keeps your joints flexbile
improves your balance
relieves stress
improves your sleep and digestion
strengthens your heart and lungs
increases your bone density, therefore strengthening your bones
What you Need to Know:
Your blood glucose response to exercise will vary depending on:
your blood glucose level before exercising
the intensity of your activity
the length of time you are active
your medication
To learn how different types of activity affect you, you should frequently check your blood glucose before, during and after an exercise session.  Exercise can have an affect on your blood glucose levels up to 12 hours after exercise, so it is important to monitor at later times as well. 
If you are on insulin and/or medications, you should always seek advice from your diabetes educator, but here are some helpful tips:
if your blood glucose levels are trending down, have a pre-exercise snack
always carry carbohydrate treatment with you (juice or glucose tabs)
if your exercise is longer than 30 minutes, check your blood glucose reading, and have a snack
if your blood glucose is high, and you have Type 1 diabetes, check your ketones.  If positive, avoid vigorous exercise.
if your blood glucose is high, and you have Type 2 diabetes, exercise will help lower your blood sugar (as long as you are not sick)
How to start:
If you decide to start a new exercise program, you should consult your doctor and remember to watch for symptoms of hypoglycemia during and after exercising. Always know what your blood glucose is prior to exercise and if necessary, have a snack to raise your blood glucose level to your own individual "safe" zone.
1.  Add physical activity to your daily routine, such as taking the stairs, parking further from the entrance, walking your dog, gardening.  Pick something you enjoy.
2.  Several times a week (try every 2nd day), do a faster paced activity such as brisk walking, swimming or cycling. 
3.  Include resistance exercises such as lifting weights (try using canned goods) or using resistance bands. 
What is aerobic exercise?
Aerobic exercise is a brisk exercise that promotes the circulation of oxygen through the blood and is associated with an increased rate of breathing. 
Examples of moderate intensity aerobic exercises include: 
biking
brisk walking
continuous swimming
dancing 
raking leaves
Examples of vigorous intensity aerobic exercises include: 
brisk walking up an incline
jogging
hockey
basketball 
fast swimming 
What is resistance exercise?
Resistance exercise involves brief repetitive exercises that use muscular strength to move a weight or work against a force. 
Examples of resistance exercises include:
lifting free weights such as barbells
using a weight machine
using resistance bands that increase muscle strength
Physical Activity Resources
There are a variety of ways you can be physically active in your own home or community. See the list of resources below for some examples.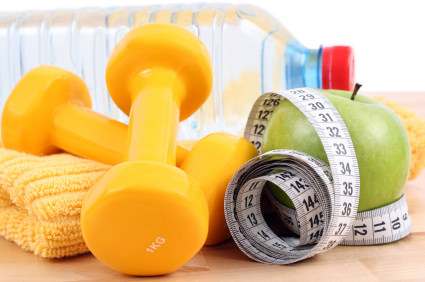 Local community and senior centres - see chart below
 Cambridge

Allan Reuter Centre
507 King St E
519.740.4681 x.4422
Cambridge Centre for the Arts
60 Dickson St
519.740.4681 x.4376
David Durward Centre
62 Dickson St
519.740.4681 x.4358
G. E. (Ted) Wake Lounge
31 Kribs St
519.740.4681 x.4467
John Dolson Centre
212 South St
519.740.4681
W. G. Johnson Centre
31 Kribs St
519.740.4681.4467

Guelph

Centennial Park Arena
376 College Ave W
519.837.5623
Centennial Pool
289 College Ave W
519.837.5620
Evergreen Seniors Centre
683 Woolwich St
519.823.1291
Exhibition Park Arena
70 Division St
519.837.5624
Optimist Recreation Centre
7404 Wellington Rd W
519.823.5945
Victoria Road Recreation Centre
151 Victoria Rd N
519.837.5621
West End Community Centre
21 Imperial Rd S
519.837.5657
Kitchener
Breithaupt Centre
350 Margaret Ave
519.741.2502
Bridgeport Community Centre
20 Tyson Drive
519.578.8751
Centreville Chicopee Community Centre
141 Morgan Ave
519.741.2490
Chandler Mowat Community Centre
22 Chandler Drive
519.741.2733
Country Hills Community Centre
100 Rittenhouse Rd
519.741.2596
Doon Pioneer Park Community Centre
150 Pioneer Drive
519.741.2641
Downtown Community Centre
35B Weber St W
519.741.2501
Forest Heights Community Centre
1700 Queens Blvd
519.741.2621
Kingsdale Community Centre
72 Wilson Ave
519.741.2540
Mill Courtland Community Centre
216 Mill St
519.741.2491
Rockway Centre
1405 King St E
519.741.2507
Stanley Park Community Centre
505 Franklin St N
519.741.2504
Victoria Hills Community Centre
10 Chopin Drive
519.741.2717
Williamsburg Community Centre
1187 Fischer Hallman Rd
519.741.2240
Township of North Dumfries
Ayr Community Centre
7 Church St
519.632.7442
Township of Wellesley
Hawkesville Community Centre
3521 Broadway St
519.699.9369
Linwood Community Centre
5271 Linwood
519.699.9369
St. Clements Community Centre
1 Green St
519.699.9369
Wellesley Community Centre and Arena
1000 Maple Leaf St
519.699.9369
Township of Wilmot
Wilmot Recreation Complex
1291 Nafziger Rd
519.634.9225
Township of Woolwich
Woolwich Memorial Centre
24 Snyder Ave S
519.669.1647
Waterloo
RIM Park Manulife Sportsplex
2001 University Ave
519.884.5363
Waterloo Memorial Recreation Complex
101 Father David Bauer Dr
519.886.1177
Wellington
Arthur and Area Community Centre
158 Domville St
519.848.3820
Centre 2000 Community Centre & Arena
14 Boland Dr
519.833.2114 x.21
Elora Community Centre
29 David St W
519.843.2800
Harriston Kinsmen Pool
Harriston
519.338.2511 x.240
Hillsburgh Community Centre & Arena
95 Trafalgar Rd
519.855.4417
Mount Forest & District Sports Complex
850 Princess St
519.323.1801
Palmerston Public Pool
Palmerston
519.338.2511 x.240
P.M.D. Arena & Community Centre
Drayton
519.638.5511
The Centre Wellington Sportsplex
550 Belsyde Ave
519.843.2800
Victoria Park Seniors Centre
150 Albert St W
519.787.1814